The latest news is that Taupō Moana is clear of the Golden/Asian Clam. This comes as a result of a recent delimitation survey conducted at five sites on our lake.
However the need for continued vigilance remains, especially as this survey was neither comprehensive nor complete.
Starting at Lake Taupō Landing Reserve on Tuesday 13 June, a team of NIWA scientists then surveyed parts of Waitahanui, Motutere, Motuoapa and Te Iringa Pouraka/Stump Bay. They finished this first stage of their mahi on Wednesday 14.
A non-intrusive survey method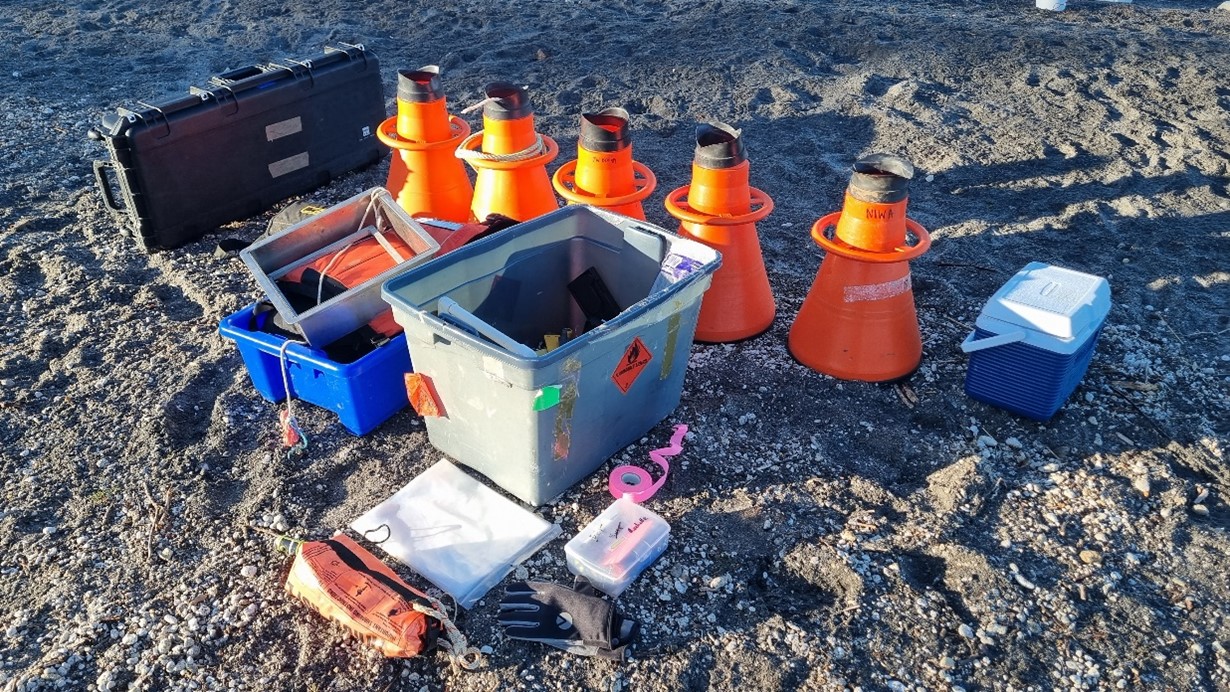 The scientists donned wet-weather gear, cordoned off their search zones and searched the water with their bathyscopes (underwater viewers). After going out as far as they could, they would then create a new search zone, and repeat the same process.
Sand was also sieved through to check for clams as well. After surveying each site, the crew then disinfected all of their clothing and equipment that entered the water.
This non-intrusive method was employed at all five sites on the lake. Karakia were performed at Taupō Landing Reserve to begin the mahi, and at Te Iringa Pouraka/Stump Bay to conclude the mahi.
After the initial search, another NIWA scientist came through to take water samples from the five sites on the lake on Tuesday 20 June. The first team of scientists conduct a visual search, the scientist who collected the water samples did so for what is called 'eDNA (environmental DNA) testing'.
Why is NIWA looking for Freshwater Gold Clams?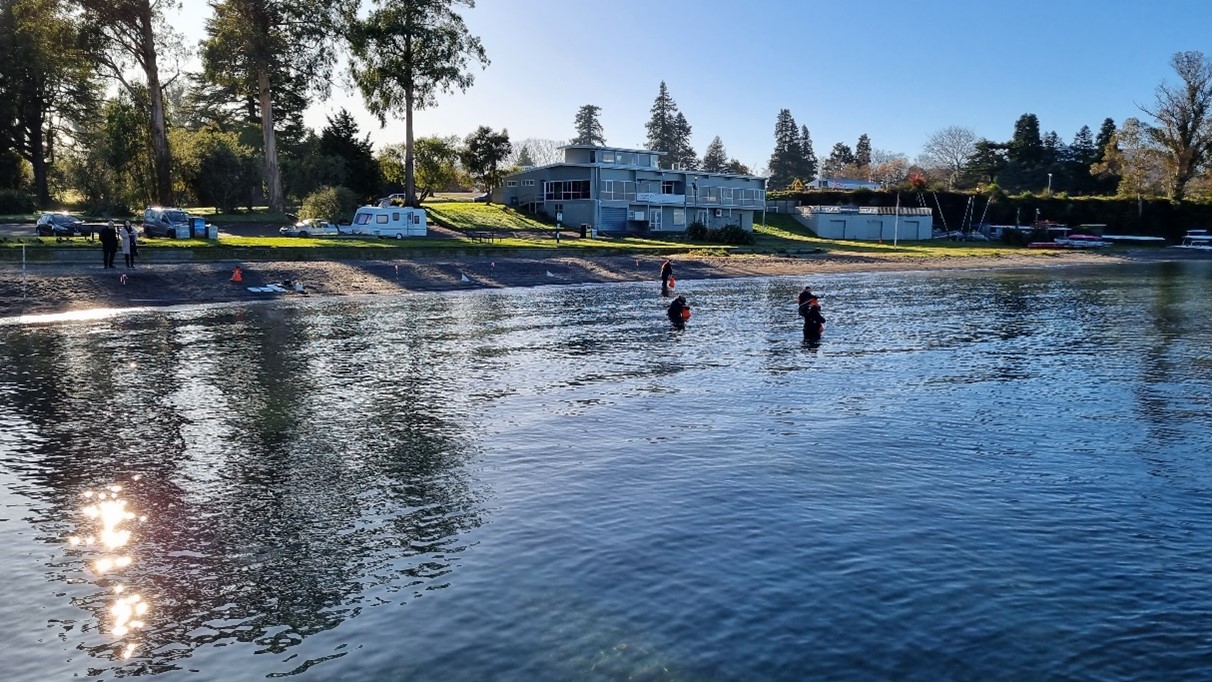 Corbicula Fluminea (also known as the Golden Clam or Asian Clam) is the latest water pest species to enter the Waikato River. It is a small pipi or cockle-like shellfish that was discovered at Bob's Landing near Karāpiro on 1 June 2023.
Originally from East Asia, the clam has since spread to parts of North America, Australia, Africa and Europe. It is also known as the Freshwater Gold Clam.
It has the potential to cause a significant impact on the Waikato River catchment as it breeds rapidly. One clam can produce up to 400 juveniles a day and up to 70,000 juveniles a year.
It has been known to clog up water pipes and hydro stations in overseas locations. It is unknown how it arrived in Aotearoa but its larvae can lodge onto boats and anything else entering the wai.
The NIWA were contracted by Biosecurity NZ (MPI) to survey our waters and gather data for MPI to use in their decision-making processes. As the world has yet to successfully eliminate the clams once they gain a foothold in an area, it is important to prevent their spread.
What is EDNA testing?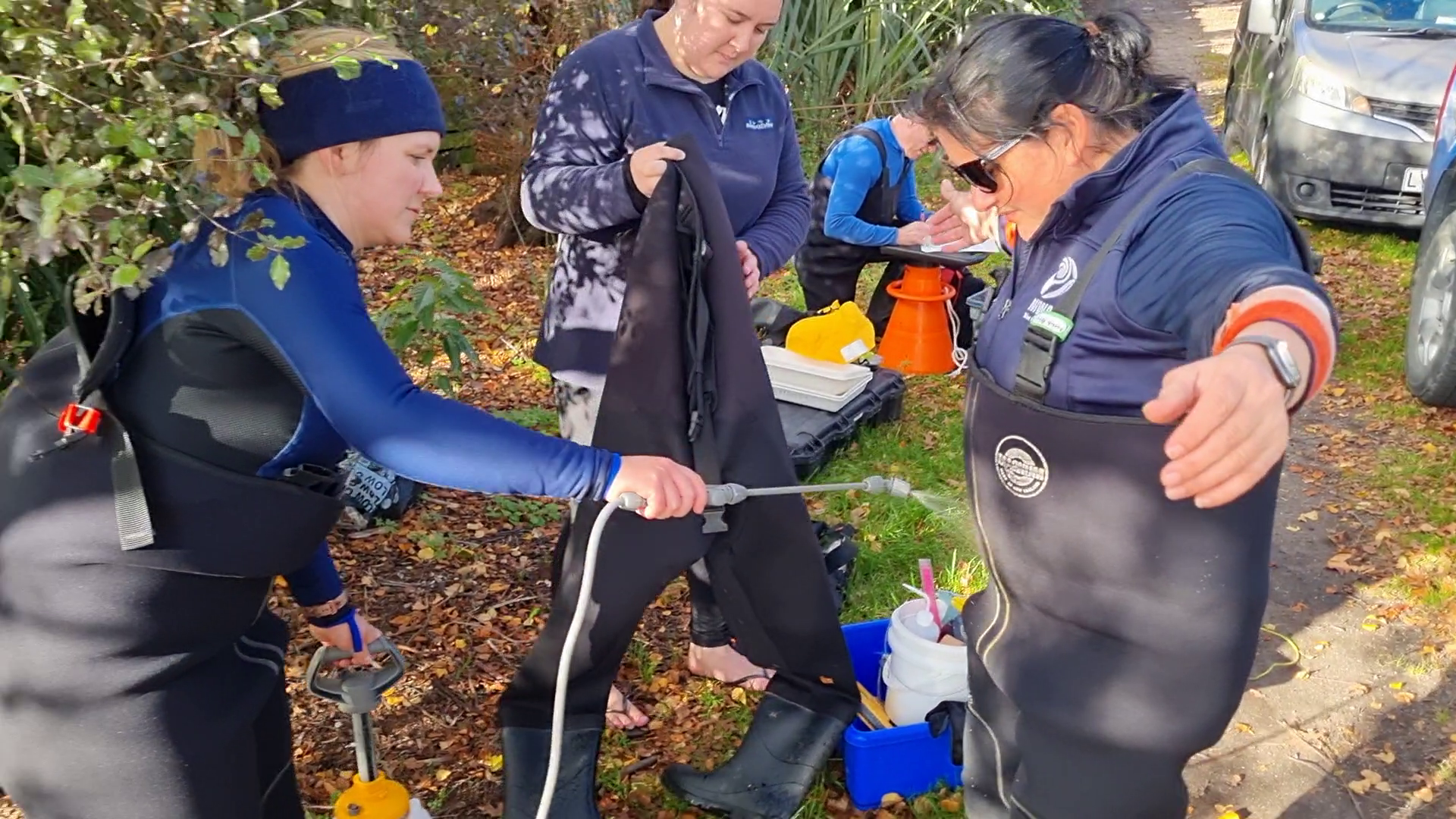 A common example of this are the feathers dropped by birds.
This genetic material is called environmental DNA. EDNA testing is a method of taking that DNA left in the environmental and analysing it. As the clams live in freshwater, it would leave its DNA behind. So even if a survey team cannot see the clams, they can test water to see if the clams are there.
For more information on eDNA, click here.
PĀTAI – Are they reka?
MPI cautions against eating the clams. They have more information on their website.
What to do if you see the clams
Firstly, MPI directs that you do not touch the clams. Take a photo if you can and send the photo to MPI using this link – https://report.mpi.govt.nz/pest/
Or you can call 0800 80 99 66.
And if you're in the water while you see the clams, please decontaminate by washing down all your clothing and equipment with hot detergent water, or with a household bleach.
When the NIWA teams surveyed Taupō Moana, they used a mixture of bleach and water.
Tirohia, horoia, whakamarokengia
MPI has called on all who use our waters to tirohia (check), horoia (wash) and whakamarokengia (dry) all clothing, equipment and vehicles entering the water.
This is enough to ensure you are keeping our waters safe. For more information on the clams, you can visit the MPI website here.