Our Work
Our pepeha continues to guide our activities, and embodies all that is Ngāti Tūwharetoa – our whakapapa, taonga and place in te ao hurihuri:
KO TONGARIRO TE MAUNGA
KO TAUPŌ NUI A TIA TE MOANA
KO TŪWHARETOA TE IWI
KO TE HEUHEU TE TANGATA
The Trust Board remains committed to maintaining and enhancing the health and wellbeing of Taupō Waters and enabling Ngāti Tūwharetoa to achieve our social, cultural, environmental, and economic aspirations. Our support of iwi growth and development is further enhanced by the relationships and partnerships we have with other Tūwharetoa entities and organisations. The shifting and ever-changing tribal landscape informs our decision to collectively deliver benefits to our people and build sustainable relationships and partnerships with other Tūwharetoa entities. We are excited with the positive opportunities these collaborations will provide.
We have identified four key focus areas that will inform our strategic direction over the next five years (2021-2026). These key focus areas are:
Pou Taiao
We are kaitiaki of our moana and awa
For generations Ngāti Tūwharetoa have held and maintained mana whenua within the Taupō catchment. The intrinsic relationship alongside our ownership rights, weaves the whāriki by which the Tūwharetoa Māori Trust Board are kaitiaki over Taupō Moana and Awa.
POU TIKANGA
Ngāti Tūwharetoa live as Tūwharetoa
Our marae are sustainable and resilient, and we are nurturing the use of our reo and mātauranga.
POU TANGATA
Ngāti Tūwharetoa are educated, healthy and connected
We are successful in life. We are healthy and active, and maintain strong relationships with our whānau, hapū and iwi.
POU TĀTĀWHAI
We successfully manage our assets for the benefit of future generations
The organisation is supported by sound policies and robust governance and operating procedures.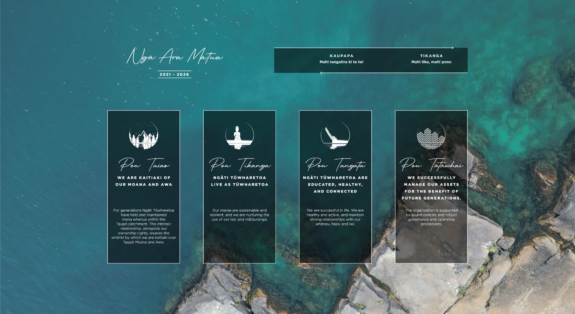 Click the Nga Ara Matua picture to view in fullscreen.
Further information on our Mahere Rautaki for 2021 to 2026 can be found here.