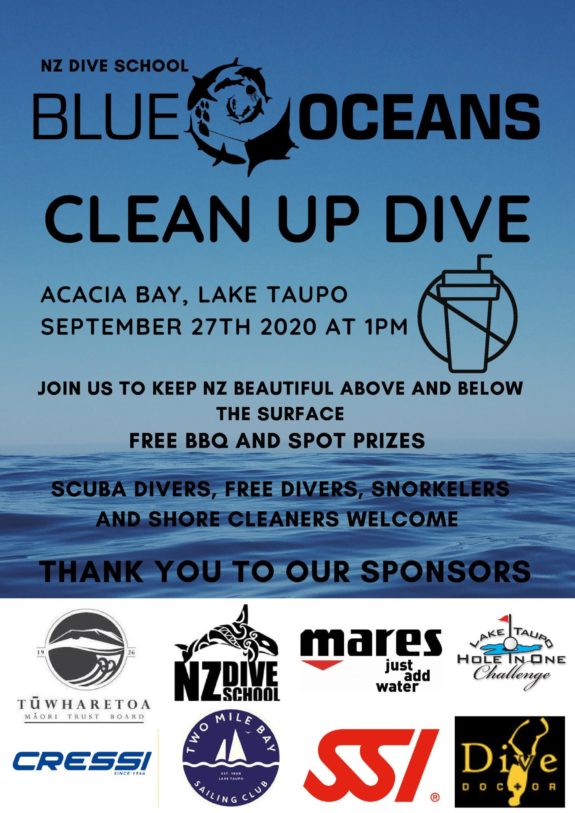 This will be a Lake shore based clean up targeting rubbish and things that don't belong.
There will be a Sausage sizzle and competition for most interesting find and a number of other spot prizes.
DATE:                        Sunday 27 September 2020.
LOCATION:               Acacia Bay, Lake Taupō
TIMES:
12pm – Registrations open – ALL PARTICIPANTS, SHORE CREW AND DIVERS, MUST REGISTER ON ARRIVAL.
1pm – Safety Briefing
1.30pm – Divers in the water (45 min max dive time)
2.30pm Sorting trash into recycling piles and sausage sizzle
3.30pm – Prize giving
4pm Clean-up and pack down.
Scuba Divers who wish to participate must have a minimum of 10 logged and be comfortable working in low / zero visibility.
NZ Dive School will have tanks and weights available for divers, but these must be booked in advance as equipment is limited.  Alternatively Dive shack Taupo can also provide any hire equipment at $10 a tank.
If you also have your own catch bag(s) or float boat for collecting rubbish, please bring this along and ensure they are named.
If you would like to join in the fun and participate as part of the shore crew, you will need to make sure you are wearing fully covered shoes and bring a pair of gardening gloves.
PLEASE NOTE:
• This is a free family friendly event, but children must be supervised at all times by an adult.
• Closed toe footwear must be worn for safety.
• Please bring your own hand protection (gardening gloves or similar).
• Don't forget your own water bottle and bring sunscreen if it's a warm day.
• Dress for the weather (warm clothes and jackets) – we go ahead rain or shine.
• There will also be plenty of work for non-divers to get involved.
If this event is cancelled due to weather, notification will be given on the NZ Dive School FaceBook page, the day before.
If you require gear hire please contact us beforehand to guarantee equipment availability
Full Kit hire $80 or options for individual equipment prices available
For full event information and to book with NZ Dive School click here