Our Matariki Planting Day was held on Wednesday 22nd June 2022 alongside Greening Taupō, Ngā Kaihautū o te Awa o Waikato – Waikato River Committee, Te Kura Kaupapa Māori o Whakarewa i Te Reo ki Tūwharetoa and Miraka.
There were over 500 people that come through to celebrate Matariki and our taiao by planting a tree. 2500 native rākau (trees) and tarutaru (plants/shrubs) were planted alongside our awa – Te Awa o Waikato.
In honour of Hiwa-i-te-Rangi, everyone wrote down their new years' goals/moemoeā and planted them with their tree.
Hiwa-i-te-Rangi is the youngest star of Ngā Mata o te Ariki (Matariki) star cluster who represents our aspirations for a prosperous year ahead. Otherwise known as 'Hiwa', she is the star who we send our wishes to.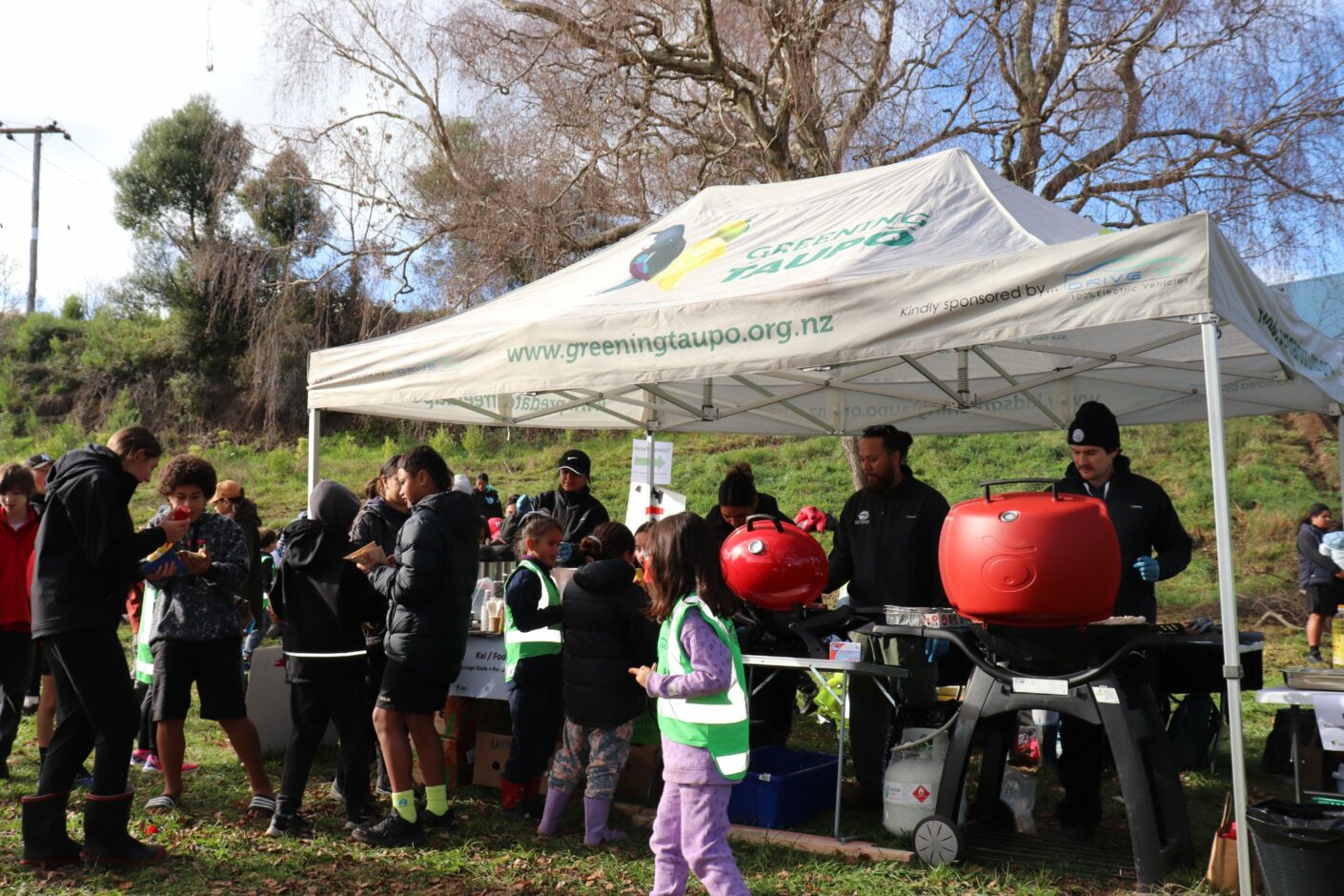 ringa wera serving up sausages and soup to the tamariki – photo credit greening taupō
Ngā mihi to Tākoha Pitiroi for opening the day with mihimihi, followed by karakia and waiata tautoko from TKKM o Whakarewa i Te Reo ki Tūwharetoa.
Thank you to Mark Ross (Ngā Kaihautū o te Awa o Waikato – Waipāhīhī Marae) who delivered a kōrero on Matariki. Delivered in both te reo Māori and English, Akuira Walker (Tumuaki o TKKM o Whakarewa i Te Reo ki Tūwharetoa) and Heidi Pritchard (Greening Taupō) briefed our tamariki on how to properly plant the rākau in the whenua.
Big mihi to the team at Miraka for coming through and supporting the kaupapa by donating sausages and kai from Farmers Discount Meats Taupō. Ngā Kaihautū o te Awa o Waikato/TMTB served reka pumpkin soup from Eat Catering.
Trees were sourced from Tongariro Corrections and the Minginui Plant Nursery. Plants were sponsored by:
Waikato Ecological Catchment Enhancement Trust (WECEET)
Te Uru Rākau – Ministry for Primary Industries (MPI)
Waikato River Fund
Big thanks to all our schools and kaimahi who took part in the day!
Ngā mihi o Matariki, te tau hou Māori!